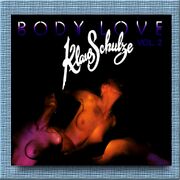 MIRAGE (1977)
<                                                                     >
"X." (1978)
BODY LOVE VOL. 2 is the ninth solo album by Klaus Schulze, originally released in December 1977.
Tracks
Details
Recording Date: End of 1976, September 1977
Recording site(s): Frankfurt/Main, Studio Panne-Paulsen
Recording engineer(s): Eberhard Panne
Producer(s): Klaus Schulze
Composer(s): Klaus Schulze
Musician(s): Klaus Schulze, Harald Grosskopf (drums)
Notes
There are several variations to this album's title: BODY LOVE, BODY LOVE VOL. II, ADDITIONS TO THE SOUNDTRACK OF BODY LOVE and even MOOGETIQUE. Despite that differences, the music is the same.
The music on BODY LOVE 2 has nothing to do with the movie "Body Love" Schulze made the soundtrack for, except Stardancer II being a remix of the track Stardancer used in the film.
In fact, Schulze's new record label ISLAND asked for an album like MOONDAWN or BODY LOVE, thinking MIRAGE was a little too quiet and complex. So Schulze agreed to produce BODY LOVE 2.
The front cover photo is by Han-Chew Tham. The back cover portrait photo is by Guido Harari.
In 2007 BODY LOVE VOL. 2 was the twenty-eighth Schulze album reissued by REVISTED RECORDS as part of a series of Schulze album reissues. The reissue bonus track Buddy Laugh is from the same recording session.
Equipment
Electronics, drumkit
Releases
Germany
1977 BRAIN 0060.097 (black Brain) LP
1977 BRAIN 0060.097 (orange Brain) LP
1992 BRAIN METRONOME 511 976-2 CD
2005 SPV/REVISTED RECORDS REV 085 CD Digipak
France
1977 PATHÉ MARCONI EMI 2C 068 60249 LP
Netherlands
1977 ARIOLA 25 540 XOT LP [titled MOOGETIQUE]
Great Britain
1977 ISLAND ILPS 9510 LP [titled ADDITIONS TO THE ORIGINAL SOUNDTRACK]
? THUNDERBOLT CDTB 123 CD
Italy
1977 ISLAND ILPS 19510 LP [titled ADDITIONS TO THE ORIGINAL SOUNDTRACK]
Portugal
USA
1977 ANTILLES AN-7065 LP [titled BODY LOVE]
Japan
? ISLAND ILS-81023 LP [titled ADDITIONS TO THE ORIGINAL SOUNDTRACK]
2007 ARCANGELO ARC-7275 CD Papersleeve
Russia
? FIRST TOWN FTCD-5569 [both BODY LOVE albums] 2CD unofficial
Ad blocker interference detected!
Wikia is a free-to-use site that makes money from advertising. We have a modified experience for viewers using ad blockers

Wikia is not accessible if you've made further modifications. Remove the custom ad blocker rule(s) and the page will load as expected.